EcoFlame B-627 (Tetrabromophthalic Anhydride Based Diol)
Product: EcoFlame B-627
Equivalent Product: PHT-4 DIOL
CAS Code: 20566-35-2
Molecular Formula: C15H16O7Br4
Molecular Weight: 627.5
Chemical Structural Formula: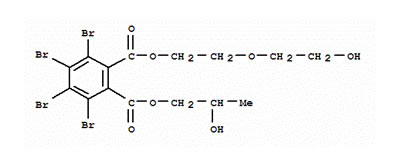 Features and Application
The EcoFlame B-627 is used as the intermediary retardant agent with a light amber thick liquid appearance. It is mainly used for the manufacturing of B1 and B2 type of PUR. Products with EcoFlame B-627 burns with less smoke and at less spreading speed. Hence the foam-plastic product with EcoFlame B-627 has good physical performance and low cost. It is popular as binding agent for painting layers and wovens as well as elastic materials and flame retardant PU washers.
Parameters :
Item
B-627 HV
B-627 MV
B-627 LV
Indicator
Test Result
Indicator
Test Result
Indicator
Test Result
Form
Amber liquid
Amber liquid
Amber liquid
Amber liquid
Amber liquid
Amber liquid
Bromine content ( % )
44.0min
46.3
42.5min
43.0
42.0min
42.8
Acid value ( mgKOH/g )
1.0max
0.86
1.00max
0.42
1.00max
0.25
Hydroxyl value ( mgKOH/g )
150-235
208
190-265
245
210-275
260
Viscosity ( cps , 25 ℃ )
70,000-120,000
100,000
30,000-70,000
35,000
15,000-30,000
20,000
Moisture ( % )
0.20max
0.07
0.20max
0.07
0.20max
0.10