EcoWatertech P-206 (HEDP)
Identification
1. Chemical Name: 1-Hydroxyethane-1,1-Diphosphonic Acid (HEDP)
2. Product Code: EcoWatertech P-206
3. CAS No.: 2809-21-4
4. Molecular Formula: C2H8O7P2
5. Molecular Weight: 206.02
6. Chemical Structure: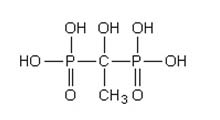 Application
1. EcoWatertech P-206 functions as scale inhibitor or corrosion inhibitor for oilfield, low-pressure boiler and circulating cool water system used in different industries, including metallurgy, electric power, chemical engineering, fertilizer production and so on.
2. In dyeing industry, our product works as peroxide stabilizer and dye-fixing agent.
3. When it comes to light woven industry, it is thought to be a detergent for metallic and nonmetallic materials.
4. Additionally, HEDP is a chelating agent for non-cyanide electroplating.
Technical Data
Item
Data
Appearance
Colorless or light yellow transparent liquid
White crystal powder
Active content (HEDP, %)
58.0-62.0
89.0 Min.
Phosphorous acid (as PO33-, %)
2.0 Max.
0.5 Max.
Phosphoric acid (as PO43-, %)
0.8 Max.
0.5 Max.
Chloride (as Cl-, %)
0.01 Max.
0.01 Max.
PH of 1% solution
2 Max.
2 Max.
Density at 20°C (g/cm3)
1.40
-
Iron ion (ppm)
10 Max.
20 Max.
Color (APHA-Hazen)
40 Max.
-
Packing
1. HEDP liquid: It is usually packed in 250kg plastic drum, while IBC drum is provided upon request.
2. HEDP powder: It is packed in 25kg plastic woven bag with PE liner, while other bags are also acceptable.